Flavors Of The Real Italian Countryside
Flavors Of The Real Italian Countryside
While Polesine Parmense is only 20 miles from the center of Parma, it feels like stepping into a whole new world, where small medieval towns of less than 1,500 inhabitants still thrive around the last Italian medieval castle near the Po River. The gorgeous famous region is also home to peacocks, who stroll freely around the rolling northern Italian countryside, as well as ancient local breeds of farm animals, sprawling vegetable gardens, and orchards full of delicious fruits. History and ancient customs also continue to thrive here, from the traditional farming techniques to the famous Palace aging cellars built in 1320, where cheese—like Parmigiano Reggiano—and wine are still aged and stored. All of these tidbits of history can not only be seen but experienced in the fertile lands of Polesine Parmense.
Your home for the week is a castle originally built nearly 700 years ago, the Antica Corte Pallavicina, which the noble Spigaroli family once lived and then bought back in 1990. Over the past 20-odd years, the family has returned the castle, including the frescos and cellar, to all of its splendor through restoration. Previously home to Maria Luigia the Duchess of Parma in 1700 and farmers and craftsmen in the 19th century, today the relais features six elegant guest bedrooms as well as a suite that spans two floors in the castle towers, providing a true home away from home.
Heading the restaurant and farm is a man considered the King of Parma Hams, Massimo Spigaroli. Not just a chef, Massimo is an artisan who ages everything from his famous culatelli—a slowly cured boneless ham unlike any other salumi you've ever tasted—to parmigiano-reggiano in the restored 700-year-old cellar below Antica Corte Pallavicina. With more than 40 years of experience, Massimo offers a unique and memorable experience in European food traditions. He not only runs the 2011 Michelin-rated restaurant on the castle grounds, but is also responsible for the biodynamic farming practices.
Flavors Of The Real Italian Countryside Accommodation Information
The Antica Corte Pallavicina has been lovingly restored by the Spigaroli family to highlight the 16th century origins alongside modern amenities. The six elegant bedrooms have coffered ceilings as well as modern furniture and period furnishings. Every room offers a beautiful view of the rolling pastures of Emilia-Romagna, as well as a working fireplace and full size bath.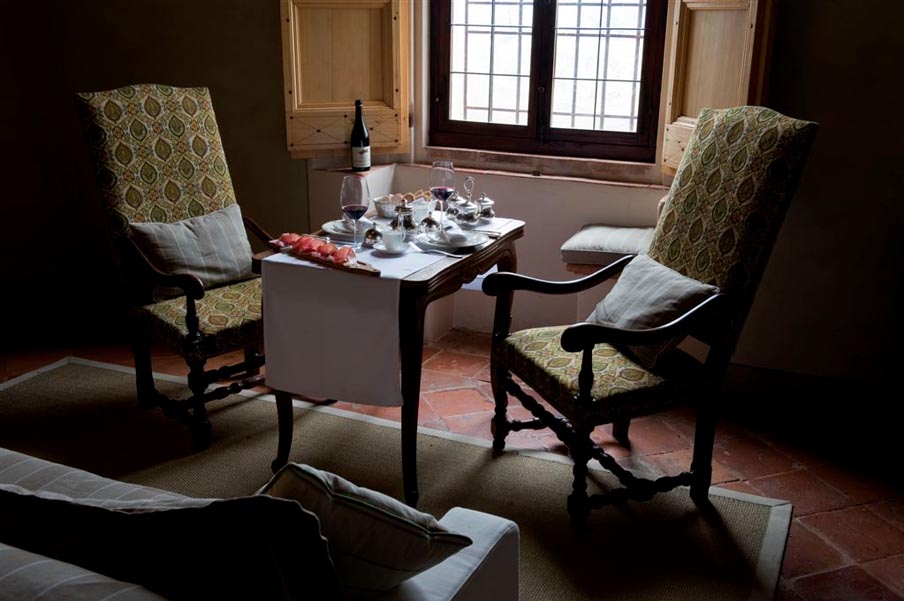 {"autoplay":"true","autoplay_speed":"3000","speed":"300","arrows":"true","dots":"true","rtl":"false"}
—-